The comparative literary essay
Every IB student has to write Paper 2. It doesn't matter whether they choose Language & Literature, or Literature, SL or HL. Since 2021, even the questions and marking guides are the same.
Related article: Differences Between IB Literature and Language & Literature
Paper 2
A comparative analysis of two works studied
Choose from four general questions
1 hour 45 minutes
30 marks
Grade Weighting
Language & Literature SL, 35%
Language & Literature HL, 25%
Literature SL, 35%
Literature HL, 25%
At least 3 months before the exam, students should revise several works to be ready for Paper 2. The IB suggests preparing three works. Some works will be more flexible than others, and some students in the past have aced this paper by preparing just two works. Of course, it is better to prepare 2 works in a responsible way than 3 works in a sloppy way. If a student is trying to decide how much to prepare, they should look at Paper 2 questions from past exams and make sure that their chosen works are flexible enough to answer any of the guiding questions.
Example guiding questions from the 2018 exam:
How do the two works you have studied show that good can come out of destruction or violence?
How and to what effect are strangers or strangeness represented in the two works you have studied?
Discuss how one or more of the formal characteristics of a genre influence meaning in the two works you have studied.
Conventional advice is that students should annotate their works to prepare for Paper 2. But how do you annotate a work for Paper 2 and annotate it well? The most common problem is annotating too much. When students are worried about finding material for every kind of question, they start highlighting anything that could be even a little relevant, and their annotations become cluttered. A struggling student might create a "key" that looks like this: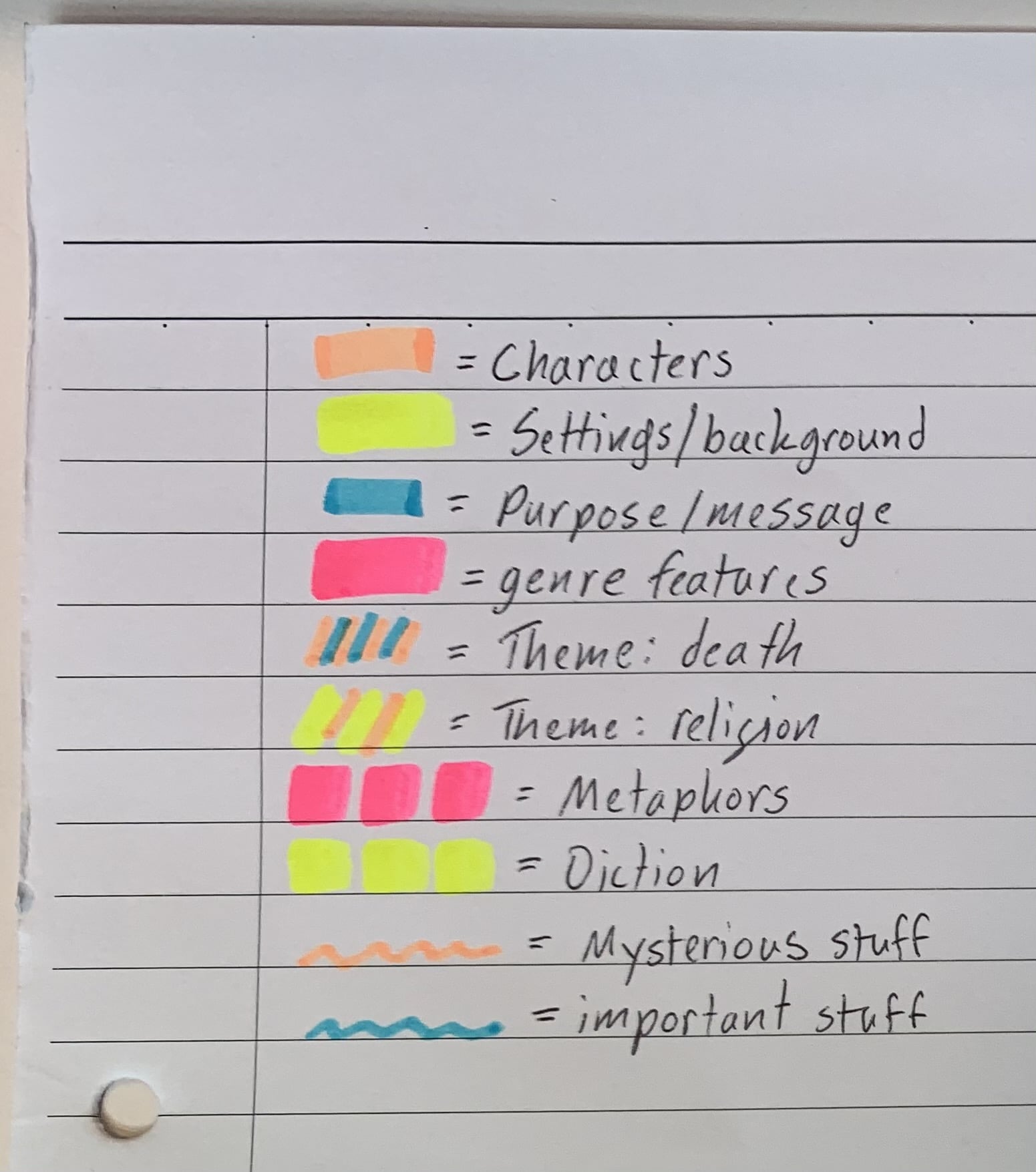 When a student looks at these cluttered pages, it will be impossible to tell what is really important. They may not even remember why they highlighted a sentence. Instead, students should choose a few open-ended questions which actually interest them.
Using simple questions like "Which characters demonstrate courage?" or "Who feels guilty?" may seem like poor preparation for specific IB questions. But students are unlikely to guess what the IBO is thinking anyway. In a proper annotation of a work, the same few scenes and quotes will always stand out. When a student does this, they will also start to understand how the parts of the work relate to the whole, because questions like "Which characters demonstrate courage" require the student to carefully read every part of the book looking for the best evidence.
Example preparation schedule
4 Months before: Choose three works to annotate carefully and thoroughly
2 Months before: Practice writing Paper 2
1 Month before: Review and improve annotations
Students should be able to reread a book in 12 hours, depending on the length of the book. They should also spend time thinking about several thematically focused questions and analyse parts of the book that are relevant to the chosen focus areas. Ideally, students will finish annotating their works two months before the exam. In the last two months, students should practice several examples of paper 2. Every practice paper should be strictly timed for 1 hour and 45 minutes. When a student doesn't have time to write a full practice paper, they can practice for the topic by writing a short outline that includes all the evidence they might use.
Students usually find that they need to go back into their works to revise their annotations and investigate some additional questions. This is normal, and also a reason why responsible students should start preparing for paper 2 early.
Need help with IB English?
Fill in the following form to schedule a free 1-hour IB English trial class with our experienced IB English trainer. Our IB course manager will get in touch with you shortly.
For further inquiries, contact us at +65 6812 9999.
By submitting this form, I agree to Prep Zone Academy's Privacy Policy and Terms of Use.